Imagine being at a casino, sitting on a blackjack table where you win and lose almost equally. Yes, you're not on a winning spree, but sometimes lady luck comes on your side. However, the action just doesn't seem to be all that exciting and you start thinking of leaving the table and call it a night. Another dealer comes and almost instantly you find yourself in the company of a new player as well. Suddenly, you see the new guy doubling his bet, anticipating a profitable outcome which comes in the end.
Double Down Blackjack Strategy – What to Expect?
With so many possibilities and modern play which constantly evolves, there's a huge blackjack strategy choice for everybody, but it's doubtful to consider one better than the others. Fortunately for players, the blackjack double down bet serves only as a way to increase your wager with the same amount once you've been dealt with your two cards. This many when you're sure that you have an advantage over the dealer. By doing so, you secure a potential double profit on your wager which compensates to a certain extent for the theoretical house edge. However, knowing when to double down in blackjack is essential and below we've added some of the most common cases in which you can do so!
Having a "Hard" 10
By having the chance of making a combination of 10 from two cards where there is no ace, you can more often than not decide to double down in blackjack. Theoretically speaking, it is a good thing to do so since the chance of hitting a card worth ten points is quite high. Furthermore, if you get a 7, 8, or 9, you also have pretty good chances of beating the dealer. However, we do advise you to not double down in such cases when you see that the dealer has an ace or a "hard"10 as well. Both you and the casino have an equal chance to win the hand, but with the difference that you risk losing more money than usual.
The Dealer Has Low Cards
This is a perfect example and a major signal that you can go for a double down bet. One thing worth noting is that you should be careful with your own cards as well. For example, if you have a 17 or 18 it is always better to "stand" as you can easily get busted. Furthermore, remember that when you double down in blackjack you can have only one additional card, so once you commit to this type of bet, you can't hit other cards!
Having Two Eights – Split and Double
Regardless of whether you're playing at blackjack websites or you enjoy the live action at a physical casino, splitting your hand gives you a double chance of winning. The opposite outcome has the same percentage, but there's no reward without risk! Statistics show that splitting your two eights is the best thing to do, since 16 is considered one of the worst hands in blackjack.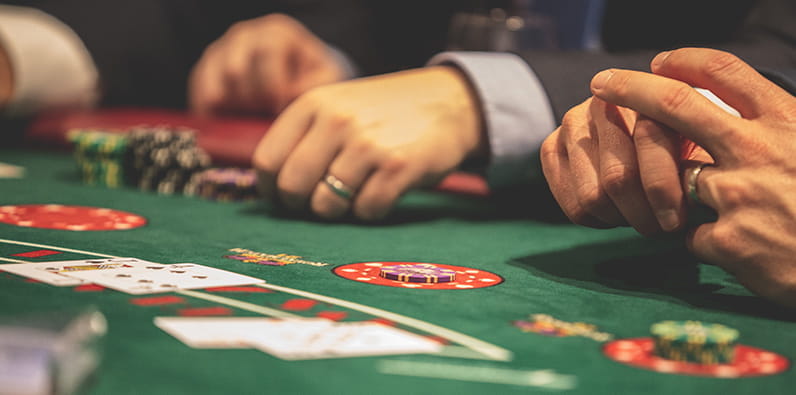 Once you get dealt with two additional cards, you then have the option to decide whether to double down, stand or hit. Choose your options carefully as we'll once again remind you that you should always consider the dealer cards!
Having Two Aces
A pair of aces in the hand is usually the best thing which can happen to players, but due to the more complex blackjack rules, that's not the case. However, this pair gives you a great opportunity to turn its disadvantage into an advantage and extract as much value as possible. By splitting the hand and using a blackjack double down, you have good chances of hitting a 21. Apart from that, you should remember that when you decide to split aces, you get dealt only one card per ace.
Look at the Cards of Other Players
Although this is an advice which doesn't rely on statistics but on the chance of having a particular combination, it is preferable to look at what cards other players have. Furthermore, when we're talking about playing a blackjack variant with two decks, this could be a way to either narrow down or increase your theoretical chances of hitting your desired card. Since blackjack's nature is having cards face up on the board, always take advantage of this information, especially when the table is full.
Odds and Percentages of Double Down in Blackjack
After we've covered the most advisable situations when you should double down in blackjack, it's time to support our statements with numbers. For those of you who like statistics and rely heavily on facts, the following table can serve as a guideline of when you shouldn't use this type of bet. Bear in mind that we've used combinations of up to 16, because if you have higher combinations it is advisable only to stand since statistics gain an immense advantage over players:
| Player's Hand | Hitting a Losing Combination (in %) | Hitting 21 (in %) |
| --- | --- | --- |
| 16 | 62% | 7.7% |
| 15 | 54% | 7.7% |
| 14 | 46% | 7.7% |
| 13 | 38% | 7.7% |
| 12 | 31% | 7.7% |
| 11 or less | 0 % | 31% |
As you can see, in 3 out of the 6 cases we've added in the table, you will more often lose than win if you decide to risk and hit a winning card. Now, imagine if you double down on your bet with one of these often losing hands – that wouldn't be all that reasonable, would it? Furthermore, when we're talking about probabilities and chances of receiving your desired card, you should always remember that in 7.7% of the cases you will get a card different than 10, and in 31 % of the time you will hit a face card worth ten points. Having all that in mind, it makes more sense to hit and double down on a combination of 11 or 10 than it is to risk with other hands.
Place Your Bets Carefully!
One thing is sure – the blackjack double down bet can be a double-edged knife! The risk is proportionate and if you're not careful with all above-mentioned factors, you might end up in a terrible situation. Apart from that, you should always have in mind the casino rules for this type of bet. Sometimes the house won't let you double down unless you have a 10 or 11 as a combination which in some cases may be a way of unintentional prevention of players losing more than they can afford. Having all of the information we've included, we hope that there's more clarification on when do you double down in blackjack, but if you wish to diversify your table game action, even more, there's plenty of thrill awaiting you at the best live online casinos!