Before Your First Time Playing
Congratulations! You're about to enter the wondrous world of online gaming. But as with any field you're not accustomed to, it's always a good idea to allow some time for getting used to, for learning and practice. A smart move would be to do your research beforehand. And if you'd like to win real money by playing games, you'd want to be really meticulous about perfecting your play and employing as many winning techniques as you possibly can. But let's start from the start.
#1 Research
Before you even get to playing, you should do some research. Which casinos are the safest to play? Where can you find the most suitable bonuses? What do the terms and conditions mean and will you be able to comply? As far as the first question goes, you're at the right place. My website is a gambling bible, giving details on the best of the best sites to play at. And they're all legal. The second question – I can help with that as well. But while I can list all the juiciest bonuses and some secret offers, it's up to you to pick the bonus that's right for you. For example, if you like playing live dealer games, don't go signing up and claiming a bonus that favours slot machines as you'll have a hard time fulfilling the playthrough conditions. The third question is just as important. The welcome bonus comes with certain conditions – be prepared to be asked to play through it a certain number of times, at least 20, and for the fact that some games, such as slots and scratch cards, usually have more weight towards the wagering requirements, whereas blackjack, for instance, usually only contributes up to 20%.
#2 Practice
Practice makes perfect. And while I can't promise you'll necessarily hit a progressive jackpot or win a small fortune playing blackjack, roulette or baccarat, getting enough practice will definitely make a difference in both your gaming and player wallet. Many online casinos now give you the chance to try their games in practice mode and if you check out some of my game reviews you'll find out I have many games embedded for you to try risk-free in demo mode. Make sure to take advantage of this free-play option as well as spend enough time observing how other players behave in the live casino, for example, before you risk any of your own money. Speaking of live dealer tables, at these you'll have some amazing opportunities you won't find in the RNG games, such as to bet behind a player. How does it work? Simply pick a player that seems to win frequently and place your bet behind theirs – that way you won't have to make any decisions – whether to hit or stand, etc. – but you'll get a profit when that player wins nonetheless.
#3 Perfect
Unfortunately, it's not an everyday thing that you'll amass a fortune and even though it is possible that you could get filthy rich there will be good days and bad days. You should accept it from the start that you won't win all the time. That's why time and money management is vital. As a responsible gambling campaign advises, 'When the fun stops, stop'.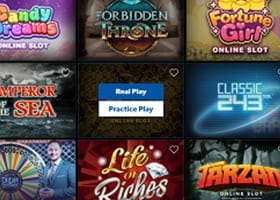 Once you grasp the idea that you're playing for fun, there are many ways to improve your gaming. First, you should handle your funds wisely. Don't bet more than you can afford to lose and don't chase your losses. Second, learn not just the rules of the game you're playing but its caveats. For instance, you might be playing a slot machine at the minimum stake when, in fact, only betting the maximum would get you the rewards you're after. Finally, explore advanced techniques, such as using strategy charts and card counting for blackjack, and betting strategies, such as the Martingale system for roulette.
The Best Games for Beginners
Choosing the best kind of game for beginners is easy. It's slots, hands down. And there're a few good reasons why. Slots are simple to play. You don't have to make vital decisions. You just adjust your bet and press 'spin'. And the greatest thing is that you can bet less than a pound and still scoop a couple of millions (or even more than £10m) if you hit a progressive jackpot. Finally, there isn't much you can do wrong when spinning the reels. Except maybe bet more than what you've intended to but that just might be a blessing in disguise as you might happen to have a winning payline or trigger a bonus feature on that same spin. However, if you'd rather spend time playing roulette and blackjack, here are some good tips for beginners. For starters, stay away from side bets at blackjack and keep your play to outside bets at roulette. Both side bets and inside bets in their respective games have tempting payouts but there's a reason for that – they are quite unlikely to happen. Also, a good rule of thumb is to look for a game variation that has a high RTP and simple and clear rules.
Fun or Prizes – You Can Have Both
Should you just chill and have fun not caring about whether you win or lose or should you be on the watch calculating your chances of winning instead? Well, it's up to you, really, if you'd like to resort to extremities but I don't see any reason why you can't have both. If you don't have as much money as you'd like to just have fun and enjoy winning but also allow for some losses, a way out is playing with a bonus. Start by claiming a welcome bonus that fits your player style and use it to feel your way around the casino. Some operators even offer free-play, meaning you'll get a certain sum of money and the chance to keep your prospective winnings just for registering at the casino site, even before you deposit. Then, once the welcome bonus is played through, if you've chosen a top casino, you'll have plenty of opportunities to keep on getting freebies in the form of comp points, daily, weekly, or game-specific bonuses, etc.